Antonella Agati Gyrotonic® Firenze Silvia Frosali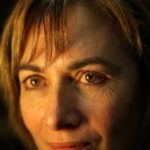 Antonella starts studying ballet as a very young girl , she becomes a professional dancer and a choreographer area where she is still active . She is also a ballet and contemporary dance teacher . Antonella teaches since many year also Expressiv Movementt and scenic Arts for lyric singers at Lugano's music conservatory ( Switzerland ) 
She starts practicing Gyrotonic at the time she was active as a dancer to help her physical practice .
Afterwards she decides to study the  Gyrotonic Expansion System with Silvia Frosali to become a teacher  
In 2008 she qualifies as a Gyrotonic Level 1 teacher. Since then she works as a teacher in her studio .
In 2011 she certifies in Gyrokinesis Level 1
 In 2013  she takes the course to become a JUMPING STRETCHING BOARD® trainer
With Silvia Frosali she also takes the courses  Gyrotonic Level 2 e Gyrotonic Principles in the context of Osteopathy.
She recently becomes PRE – Trainer Gyrotonic Level 1.