Annalisa Coppini Gyrotonic® Firenze Silvia Frosali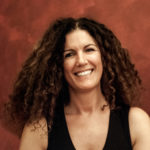 I was born in Impruneta, the Chianti region close to Florence , where I still live. 
Besides my studies in the school of Arts  in Florence I studied dance and yoga. 
These disciplines approached me to the Gyrotonic method in a very natural way. 
I was immediately fascinated by this methodology where  the movement combined with the  breath allowed to achieve a physical and mental wellbeing. 
Since 2000 I take Gyrotonic classes and  teach yoga and other holistic disciplines. 
In 2006 I started the process of becoming a teacher of Gyrotonic Level 1. In 2013 I completed the course  "Gyrotonic Principles in the cotext of osteopathy". 
Since 2015 I collaborate with Silvia Frosali at her  studio as a Gyrotonic level 1 trainer , continuing my personal practice and teaching of yoga.