Louis Flores Gyrotonic® Firenze Silvia Frosali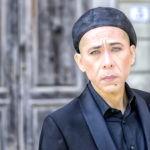 I was born and raised in Los Angeles. I am classically trained ballet dancer and have danced for most of my life. In addition to ballet I enjoy Salsa and Argentine Tango. Because of my love for movement it was only natural to want to continue sharing my extensive knowledge of movement with not only dancers, athletes, but the general population that is in desperate need of proper biomechanics in order to maintain a healthy body.
I am certified in GYROTONIC®, GYROKINESIS® and PILATES. I have been a Pilates instructor since 1999. I received my teacher training through Body Arts and Science with Rael Isacowitz.
I began my training with Lisa Marie Goodwin in 2003 and was certified by Juliu Horvath in both GYROTONIC® and GYROKINESIS® in 2005.
In addition to this, I am certified on all the GYROTONIC® Specialized Equipment, which include the Jumping Stretch Board, Archway, Gyrotoner and while living in Italy in 2006 was certified on the Leg Extension Unit with Abel Horvath, the nephew of Juliu Horvath, who created the GYROTONIC® method.
In 2015 I returned again from Italy where he did a GYROTONIC® Level 2 Course at GYROTONIC® Roma with Master Trainer Lucrezia Caricola in Rome.
I am also a certified GYROTONIC® Pre-Trainer since 2004, and has conducted many courses preparing students for their GYROTONIC® Foundation Course.