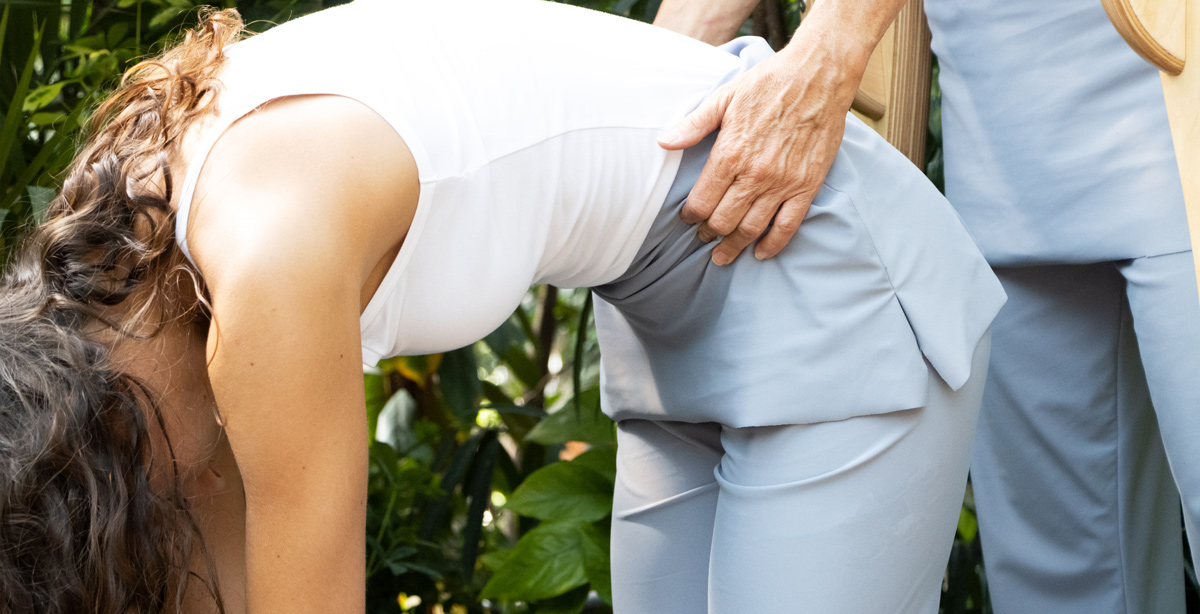 Frequently Asked Questions
What is the difference between the GYROTONIC® and GYROKINESIS® Methods?
Both methods are based upon the same movement principles. The
Gyrotonic®
Method utilizes specialized equipment to guide, assist, and challenge the exerciser.
Gyrotonic®
classes are conducted as private sessions or in a small group class. The
Gyrokinesis®
Method is practiced on a mat and chair, without equipment. Without the feedback and guidance of the equipment, participants in a
Gyrokinesis®
class are more dependent on their own proprioception to explore movement sequences.
Gyrokinesis®
classes are usually taught as a 1-1.5 hour group class.
Quale è la particolarità dei movimenti del GYROTONIC EXPANSION SYSTEM®?
I movimenti seguono un principio di tridimensionalità come nelle ondulazioni o nelle spirali e vengono eseguiti con l'intento di creare decompressione e allungamento. Sincronizzati con il respiro, stimolano il sistema cardio-circolatorio, quello linfatico e la circolazione dell'energia interna ponendo l'attenzione sul concetto di unità biologica dell'organismo.
How often should I take a GYROTONIC® or GYRONINSIS® class?
Students typically take 1-3 classes per week depending on what their schedule and/or budget will allow. Often students supplement their studio class(es) with a Gyrokinesis® home practice, allowing them to incorporate either a Gyrotonic® or Gyrokinesis® session into their schedule on a daily basis. There are dvds available for students who want to enhance their studio practice with a Gyrokinesis® home practice.
Do you have to be an athlete or dancer to take a GYROTONIC® or GIROKINESIS® class?
No. You don't need a movement background of any kind to take a Gyrotonic® or Gyrokinesis® session. The Gyrotonic® and Gyrokinesis® Trainer will organize each session into beginner, intermediate or advanced exercise sequences depending on the needs of the client(s) she/he is teaching. In addition, the trainer will modify exercises to accommodate the unique needs, and abilities of each person.
I don't have much experience with exercise, and am not very coordinated. Can I take a GYROTONIC® class?
The Gyrotonic® Method is a great exercise choice for anyone who wants to safely & effectively
recondition their body. For the absolute beginner, two or three private sessions with a Gyrotonic® Trainer. It's the best way to get started. A skilled trainer will be able to assess your range of motion and ability and will choose exercises and modifications specific to your needs and abilities.
I'm recovering from an injury. Will GYROTONIC® sessions contribute to my rehabilitation process?
Gyrotonic® sessions are a great complement to a traditional physical therapy program and can make a significant contribution to the recovery process. Physical therapists use Gyrotonic® exercises in their clinics to help their patients recover from injury and work with disabilities. Due to the focus on joint
stability, muscle balance, and functional strength, Gyrotonic® sessions are an ideal post-rehabilitation exercise option.
I am an athlete. Will GYROTONIC® sessions improve my performance?
Gyrotonic Expansion System® Method creator, Juliu Horvath was a professional athlete and originally developed the Gyrotonic Expansion System® Method as a way to train and rehabilitate himself and other professional athletes. Whether a weekend warrior, or competing at a professional level, athletes can experience profound improvements in performance and injury prevention with a regular Gyrotonic® practice.
Are the GYROTONIC® and GYROKINESIS® Methods related to Pilates?
No. Pilates is an exercise method that was developed by Joseph Pilates in the 1920s. The Gyrotonic Expansion System® was developed by Juliu Horvath in the 1970s.
Both methods utilize specialized equipment to facilitate better movement patterns. Both methods emphasize mindful movement and the incorporation of movement and breath, but the equipment, strategies and exercise principles of each method are distinct from one another.
Juliu Horvath never studied Pilates, and Pilates did not influence the system he came to develop. He does have an extensive movement background, which includes swimming, gymnastics, dance, ice skating, qigong, tai chi & yoga. His experiences with those disciplines have contributed to his perspective on movement. But his biggest influence has been the energetic awakening he experienced when he sequestered himself in St. Thomas, Virgin Islands and engaged in seven years of intensive study. The Gyrotonic® and Gyrokinesis® Methods are primarily informed by the profound awareness Juliu acquired during that personal experience and the lessons he continues to learn through self exploration, and his experiences working with hundreds of students over many years.
How do I become a GYROTONIC® or GYROKINESIS® Trainer?