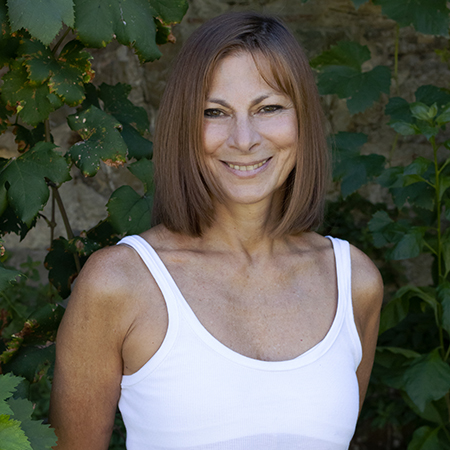 Silvia Frosali
Master Trainer of Gyrotonic® (2003), of Gyrokinesis® (2007) and osteopath D.O.M.R.O.I (2005). The Gyrokinesis® Specialized Master Trainer (2011) title that allows her to conduct the final certification courses of Gyrokinesis®. For many years she has held training courses not only in Italy but all over the world. In her studio in Florence she offers lessons and osteopathic treatments. She developed the Gyrotonic® Principles in the context of Osteopathy course approved by Juliu Horvath as an update of the Gyrotonic® method.
READ MORE
At the end of the 1980s Silvia met Juliu Horvath for the first time and was deeply fascinated by his method. Since then she has continued her long training with Juliu, following his very rich teachings. She has always felt how the method was the best support for her activity as a therapist.
Born in Florence, Silvia started studying dance at the Hamlyn school at a very young age. As a teenager she moved to London where she studied at the Royal Ballet School. She worked as a professional dancer at the ATERballetto in Reggio Emilia with Amedeo Amodio, then the Stadt Oper of Bonn with Peter Van Dyck and the Théâtre Chorégraphique de Rennes with Gigi Caciuleanu. A serious knee accident during a show abruptly interrupted her activity as a dancer but opened the door to the world of therapy and wellness.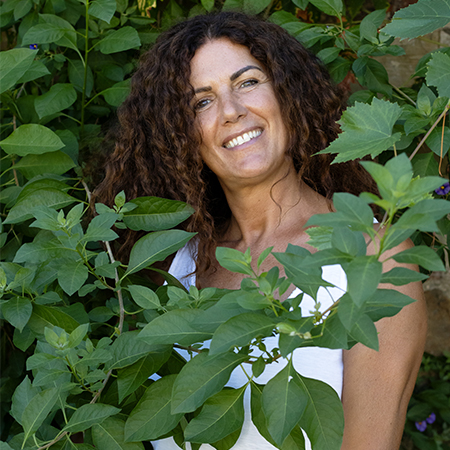 Annalisa Coppini
She has practiced yoga and dance since she was young. In the early 90s Annalisa encounters the Gyrotonic Expansion System® for the first time, and becomes deeply passionate about the method. Through the method she improves and refines her ability to move and her perception of her psychophysical balance. She is certified as a teacher of the Gyrotonic® method (2008) and her training path is enriched by numerous update courses: Gyrotonic® Principles in the Context of Osteopathy (2014), Gyrotonic® level 2 (2016) and Jumping Stretching Board (2017).
READ MORE
Born in Impruneta, she has been working for years in Florence with Silvia Frosali's team. She continues to practice yoga, of which she feels a deep affinity with Gyrotonic®, and she continues her work with the Gyrotonic Expansion System® as an attentive and enthusiastic teacher.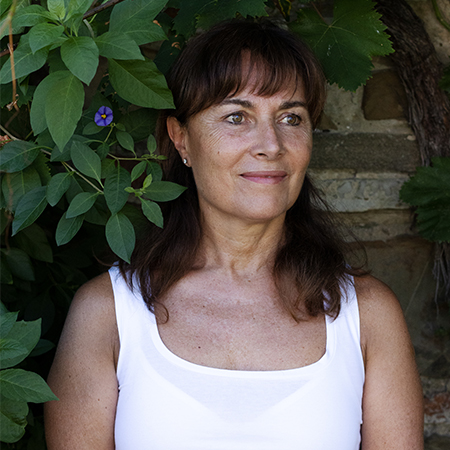 Antonella Agati
She started practicing GYROTONIC® in the nineties while she was still active as a dancer, a method through which she improved her physical practice. Later she decides to study the Gyrotonic® methodology with Silvia Frosali with whom she carried out all of her training. In 2008 she obtained the Certificate for Gyrotonic® Level 1. Since then she has also practiced this discipline as an instructor in her own studio. She obtained the Gyrokinesis® Level 2 Certificate (2011) and took the JUMPING STRETCHING BOARD course (2013).
READ MORE
She also conducted the Gyrotonic® Level 2 and Gyrotonic Principles in the context of Osteopathy course with Silvia Frosali. For some years she has been providing courses as a PRE – TRAINER GYROTONIC® LEVEL 1.
She has had a long career as a choreographer, working in prestigious theaters including La Scala in Milan, and presenting at dance and theater festivals at Avignon, Bath, and Berlin. She has collaborated with directors of the caliber of Pier'Alli and Alfredo Arias with composers such as Luciano Berio and Salvatore Sciarrino. She has taught classical, contemporary and Graham technique dance. For many years she has been teaching expressive movement for singers and musicians, and currently works at the Lugano Conservatory.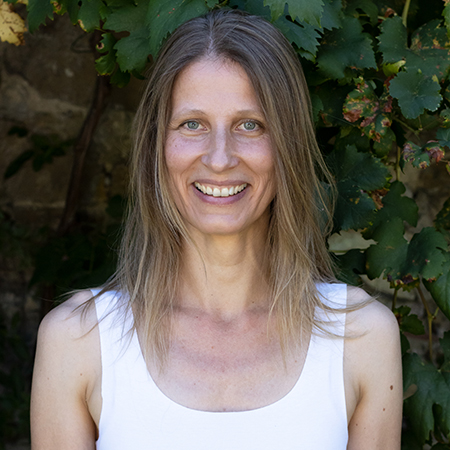 Antje Sagawe
Antje was born in Dresden, Germany and moved to Florence in 1998. Gyrotonic® (2007) and Gyrokinesis® (2013) instructor, Antje learned about the method through the advice of a doctor for back pain. Intrigued, she tried the method in the Club I1 Vortice, where in 2000 she began training and where she remained working until 2006.
READ MORE
In 2007 she began her freelance practice, creating her Antje Sagawe studio and collaborating with other structures: the Dr. Giappichelli dental practice, the Carafa medical practice, the Pilates Touch studio and, since 2016, she collaborates with Silvia Frosali's Gyrotonic® Firenze Studio.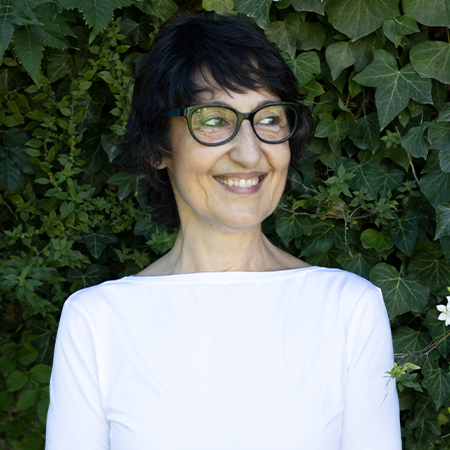 Stella Battaglia
GYROTONIC® teacher since 2016. She trained in classical dance (Royal Academy of Dancing of London and Imperial Society of Teachers of Dancing). Her training as a professional dancer and ballet teacher enriched her preparation with studies of anatomy, teaching technique, body manipulation, posture, and breathing at the Académie Princesse Grace in Monte Carlo.
READ MORE
She then turned to the figurative arts and graduated from the Academy of Fine Arts in Florence in sculpture with a research between art and science on the dynamics of forms in space. Since 2000 she has collaborated with the Galileo Museum, the Faculty of Architecture of Florence and the Opificio delle Pietre Dure. She exhibits her work as a sculptor in Paris, in the USA, in Shanghai.
She continues to cultivate her own training by attending Silvia Frosali's GYROTONIC® Firenze studio for several years and finds in the Gyrotonic® and Gyrokinesis® lessons a particularly satisfying discipline both in terms of exercise and personal well-being. She underwent training for the GYROTONIC® Level 1 Teacher Certificate (2016) and Jumping Stretching Board (2018). Thanks to the GYROTONIC EXPANSION SYSTEM® method, Stella resumes teaching with an understanding of the continuity between two forms of communication: fine arts and her previous experience in the field of dance.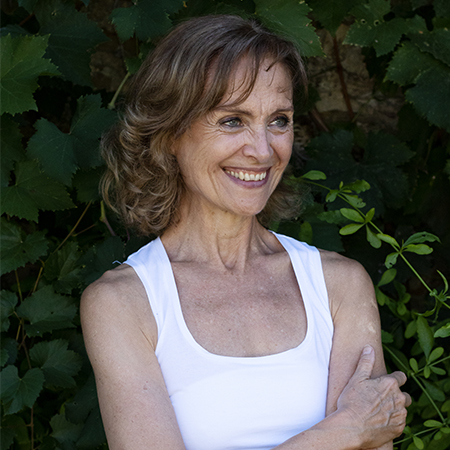 Aurora Benelli
Aurora Benelli Licensed Gyrokinesis® Trainer (2011) Gyrotonic® (2020) maître de ballet and assistant choreographer (since 2006), certified American Ballet Theater® National Training Curriculum ABT®NTC (since 2016). She collaborates with the Gyrotonic® Firenze studio where she teaches group and individual Gyrokinesis® lessons (since the end of 2015). Under the careful guidance of Silvia Frosali, her Master Trainer, she participates in the Gyrokinesis® Breathing Course Intensive (2018).
READ MORE
At the beginning of the 90s, since the arrival in Italy of the Gyrokinesis® and Gyrotonic®,  Method, she introduced the two methods systematically in his daily training, acquiring ever greater awareness and better use of the energy of the body in motion, fully benefiting during her long artistic career and in the recovery of professional injuries. Aurora began studying classical dance at a very young age with Brenda Hamlyn in Florence, her hometown, and then completed her training at the Royal Ballet School in London. She joined the Italian Ballet Company, directed by Carla Fracci and Beppe Menegatti, covering important solo roles in the classical repertoire. Her encounters with the English choreographer Wayne McGregor, in whose company – Random Dance now Studio Wayne McGregor – she is often a guest, opened the door to precious experiences in contemporary language. There were numerous collaborations, as mâitre de ballet and assistant to choreography, alongside the Canadian choreographer Paul Chalmer, both in Germany (Leipzig Ballet) and in Poland (Opera Nova by Bydgoszcz). The experience of many years of work, as a dancer and later as a teacher, allows her to integrate classical skills with those of Gyrokinesis® and Gyrotonic® acquired both with direct practice and with the teaching of these disciplines.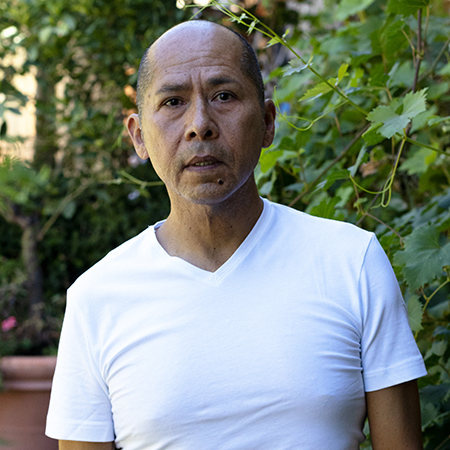 Louis Flores
Certified in Gyrotonic® and Gyrokinesis® (2005), Gyrotonic® Pre-Trainer (2006) and Pilates (1999). Juliu Horvath's method allows Louis to use his knowledge of biomechanics while continuing to deepen the technique in oder to help clients feel better and stay healthy.
READ MORE
He is also certified in the machines: Jumping Stretching Board, Gyrotoner, Leg Extension (2006) and Archway (2010) so as to be able to offer its customers an even wider range of exercises in order to refine their skills and fully increase their potential.
Born in Los Angeles, California, where he began his ballet training, Louis became a professional dancer. He danced for many years at the Joffrey Ballet, one of the most famous American dance companies.
In 2000 he began to suffer from constant lumbar and sacroiliac pain. After trying multiple therapeutic avenues without success, one of his Pilates clients suggests that he try the Gyrotonic® method. The immediate and lasting benefits, the total disappearance of pain from the very first lessons, convince him to take the path of teaching in order to share the enthusiasm and passion for the method with his clients.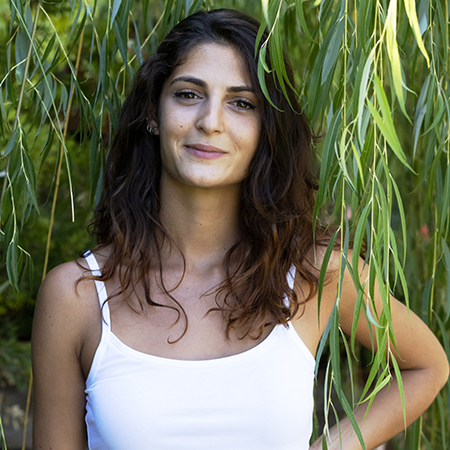 Camilla Antonielli
Camilla hails from Naples and has been studying classical and modern dance throughout her childhood at the Accademia di Danza Flegrea in Naples where she graduated in 2015/2016. Thanks to a scholarship she moved to Florence that same year to continue her studies at the Hamlyn Academy. She worked as a dancer in Angelo Egarese's company Kinesis, then for a short period she worked as a teacher at the Florence Dance Center.
READ MORE
She encountered the
Gyrotonic®
method for the first time as a rehabilitation method when during the course of her dance studies she suffered a knee injury. Amazed by the effectiveness of this method that allowed her to obtain the diploma, she had the opportunity to start a new course of study in
Gyrotonic®
with Silvia Frosali at her studio. She was certified as a trainer of
Gyrotonic®
Level 1 (2020).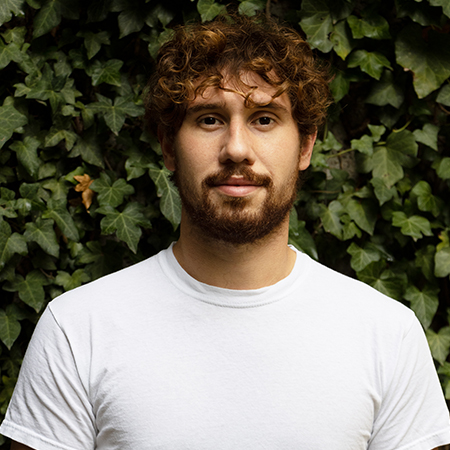 Vanni Montini
Vanni holds a bachelor's Degree in Exercise Science (2020), is certified as a Gyrotonic® (2020) Trainer (2020), and is currently enrolled in the S.O.F.I School of Osteopathy (ongoing). From an early age, Vanni has always practiced more than one sport, especially swimming and volleyball, achieving competitive results in both.
READ MORE
Still immersed in this world and with an ever increasing rpassion for movement, he enthusiastically approached the Gyrotonic® method which immediately fascinated and impressed him in its functionality of valid support for all those who practice a sport and for psycho-physical well-being that brings in everyone.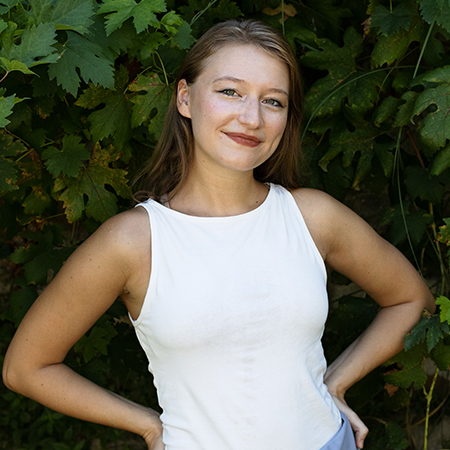 Shiri Gross
Shiri hails from Chicago and graduated from the University of Pennsylvania in 2019 where she studied Intellectual History and Psychology. During her time in college she was a member of the Penn Dance Company where she performed and trained in modern and contemporary dance. She choreographed over nine of her own pieces during this time, and won several awards and recognitions for her choreographic achievement.
READ MORE
Upon graduation she moved to Florence and began her training with Silvia Frosali to become a
Gyrotonic®
instructor. She is certified as a Level 1
Gyrotonic®
Trainer (2020). Shiri will continue her education in psychology to become a psychotherapist, incorporating her deepened understanding of somatic well-being, nervous system regulation, and the mind-body connection into her studies of empirical behavioral sciences. She is attracted to the
Gyrotonic Expansion System®
because of its incredible effects on one's grounded bodily awareness, connection to themselves, and overall sense of well-being. She works attentively and compassionately with clients of a range of ages and abilities, adapting to the client's presenting needs with enthusiasm for their unique journey.